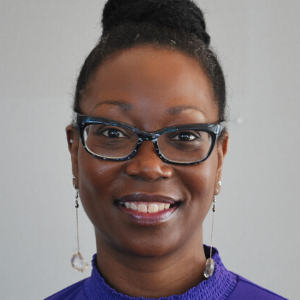 Cassandra Martin-Himmons, LMSW
Curriculum Developer
Cassandra Martin-Himmons is a Curriculum Developer at PHI. In this role she creates and facilitates both in person and virtual workshops and trainings that enhance the professional development of direct care workers and their supervisors. She also analysis data as a means of designing and conducting focus groups for client organizations to inform their training design and workforce development interventions. All of this is done using the principles of adult centered learning.
Additionally, Cassandra functions as a subject matter expert on the topics of stress management and self-care.
Prior to coming to PHI, Cassandra worked within the fields of healthcare and workforce development. While at Madison Strategies Group, Cassandra was the co-developer of the CareerLift program which helped individuals with limited access to educational and work opportunities maintain employment and advance in their careers. Cassandra's professional interests lie in the fields of instructional design and workplace wellness in addition to assisting individuals with navigating their way through life's challenges that impact their ability to work.
Cassandra, a licensed social worker, earned her MSW degree from Columbia University and has 15 years of experience within the field of social services. She is the former Vice President of Education for the Harlem branch of Toastmasters International and enjoys scrapbooking and traveling in her spare time.