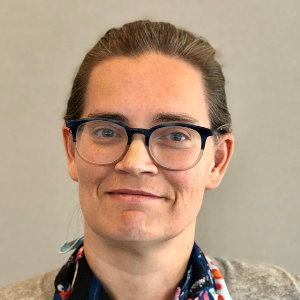 Cat Hamilton
Curriculum Designer
As PHI's Curriculum Designer, Cat Hamilton develops engaging, efficient, and scalable instructor-led and online learning experiences for the direct care workforce. Cat brings to PHI 15 years of training and program design and evaluation experience across the public sector, nonprofit, ad-tech, sports entertainment, adult education, and biopharm industries in addition to cross-cultural expertise.
Cat began her career teaching public middle school in Manhattan where her embrace of a "meet the learner where they are" approach has informed her work ever since. Next, Cat became the NYC trainer for a national nonprofit helping high-skilled immigrants and refugees rebuild their professional careers in the U.S. While there she energized and revamped the curriculum, ran monthly multi-day learning summits, piloted immigrant-women-only programming, and coordinated and moderated industry roundtable discussions and engagement events for their Fortune 500 employer partners. She was integral to bringing the nonprofit's core content online to scale the business.
Cat's private sector experience began in the tech world, where she oversaw global employee onboarding, built team-specific 90-day onboarding plans, and facilitated a calendar of live and dial-in workshops for the digital advertising startup that built the demand-side platform (DSP) market. As a consultant for the NFL, she created e-learning products to onboard seasonal employees working NFL games. Later, she built the self-directed learning journey and 3-day sales bootcamp for sales new hires at a biopharm tech giant. More recently, her consulting role at American Management Association challenged her to retrofit legacy learning content for new audiences and build custom curricula for AMA clients in construction products and animal health areas.
Cat has an MA in Teaching English Language Arts from Teachers College, Columbia University and a BA from St. Lawrence University in Philosophy and Environmental Studies.